The Most Affordable Traditional Dental Implant in Metro Detroit
Home of the original *$999 DENTAL IMPLANT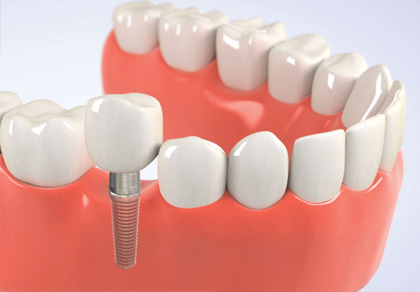 Starting at *$999 (per surgical placement), our FDA approved dental implants are more affordable than you think!
The *$999 covers the surgical placement of one dental implant for an average savings of $1,500 per implant!
My Family Dental offers the best value for dental implants in Southeastern Michigan.
Our dental implant specialists will restore your beautiful smile with the area's lowest price for dental implants and in-house financing. We can help determine a treatment plan and payment schedule that is guaranteed to make you happy!
Is Your Confidence Suffering Due to Missing Teeth?
When you're missing one or more natural teeth, your jaw can shrink to compensate, causing your other teeth to shift. A shrinking jaw gives the appearance of premature aging and can cause general pain and discomfort, which increases while eating, drinking, and talking. Receiving dental implants will slow down and even reverse the shrinking process. Don't let your missing teeth affect your life. The choice is clear if you are searching for best value in Dental Implants in the greater Metro Detroit area, you need to call My Family Dental today.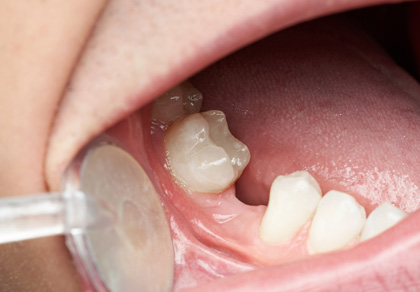 We routinely have customers from Sterling Heights, Ann Arbor, and Waterford make the drive to our office to take advantage of our low prices and savings offers. Please note, for patients needing extractions and grafting, there may an additional charge determined at time of exam.
Dental implants are a permanent solution for replacing missing teeth.
Unlike dentures, dental implants last a lifetime and look and feel just like regular teeth. Nobody, not even you, will be able to tell the difference between your implant and a natural tooth. Dental implants will improve your appearance, enhance your comfort, and give you the confidence you need.
My Family Dental offers the lowest prices on dental implants in Michigan! We offer dental implants for only $999, compared to an average of $2,282 in Southeast Michigan!
At My Family Dental, we're committed to providing the best dental care for you and your family in Southeast Michigan. Our affordable prices, expert staff and state-of-the-art equipment are guaranteed to provide you with the perfect smile!
From general and family dentistry to dental implants, bridges, and all of your dental emergencies – choose My Family Dental. We truly care about your smile! Contact Us Today!
Dental bone grafting is when the dentist builds up the bone in an empty socket. For example, if you have too little jawbone to secure an implant post, your dentist may recommend a bone graft.
Bone grafting helps preserve your smile and the natural contour of your jaw by adding grafting material around gum disease-affected teeth or to places where tooth loss has occurred. Placing grafted material in areas of missing teeth strengthens and prepares the sites for dental implants. Furthermore, rebuilding your bone in areas of deterioration provides a firm foundation to which your implants can fuse.
Sinus lifts have become common during the last 15 years as more people get dental implants to replace missing teeth. When you lose an upper tooth, especially to gum disease, there may be little bone in the upper jaw to utilize. A "sinus lift" can resolve that, thus securing the implant!
A sinus lift is a surgery that adds bone to your upper jaw in the area of your molars and premolars. It's sometimes called a sinus augmentation. During a sinus lift, a small opening is made in the sinus above the roots of the affected tooth to form a small, balloon-like space where your dentist will place the composite to secure the implant.